A question that has been asked before: "Is it possible to have an admin user in g suite without paying for an email licence?"
A simple question begets a simple answer but alas it is not so. Here's how you can add a user as an admin to a Google Workspace account without paying for an extra (and unused) account. There's also a similar question on stackexchange.
(1) Transfer your subscription from Google Domains to Google Workspace
This is only necessary if you originally signed up for GSuite through Google Domains. Don't ask me why the two parts of Google act as if they were separate companies. The instructions from Google are clear enough:
Sign in to Google Domains.
Select the name of the domain you'd like to transfer.
Open the menu.
Click Email.
Click Manage Google Workspace subscription.
Scroll down to "Transfer subscription" and click Transfer. Confirm the transfer in the dialog box.
After you transfer your account, you won't see your Google  Workspace users listed in your Google Domains settings, but their Google  Workspace services continue as usual. If you need to manage users, sign in to the Google Workspace Admin console.
Also, when you transfer, billing  in Google Domains stops immediately. You have 30 days to set up billing  in Google Workspace or your service is suspended.
The transfer should be immediate. You will then be shown a warning: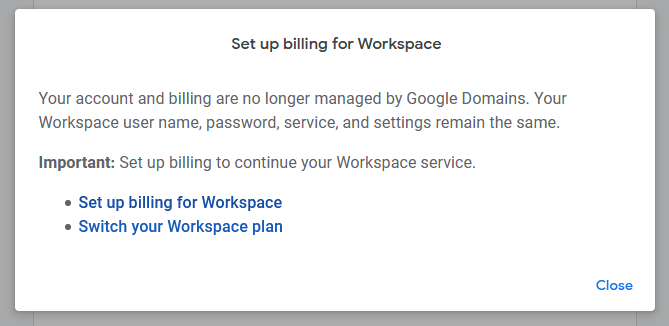 Follow the instructions on the linked help page:
Only the primary super administrator who created the account can set up billing.
In your Google Admin console (at admin.google.com)...
Go to Billing > Subscriptions.
At the top, click Start Paid Service or Set Up Billing.
Follow the onscreen instructions to set up billing.
Basically, you need to log into your Google Workspace account and go to Billing → Subscriptions. You should see a banner at the top of the page asking you to add billing info (if you haven't already), and once that's done, there'll be another banner asking you to activate billing. Once this is done you should be able to...
(2) Add Google Identity Free subscription
This step is necessary so that you can add an account to your Google Workspace without assigning that account a paid subscription. You can read more about it here as well as here.
Log into your Google Workspace account and go to Billing → Subscriptions → Add or Update Subscription.
If you see an error (like "contact your reseller" then you may need to go through step #1 above, or read this google help page).
Choose "Cloud Identity" from the categories and select "Cloud Identity Free." Next - next - OK and eventually you should see it in your list of subscriptions:
Once done, you should see a useful warning:

(3) Turn off automatic Google Workspace licensing during setup
Google has a useful help page on this topic here.
Basically, in your Google Workspace admin console, go to Licensing → License settigns, and make sure "Automatic licensing" is off:

(4) Add the new admin account & grant privileges
You can finally go to your Google Workspace admin console, navigate to Directory → Users, and click "Add new user". Fill in the user's details. Once the user is created click on the name and look for the "ASSIGN ROLES" link in the "Admin roles and privileges" box:

...and assign whatever roles you want. The "Super Admin" role is usually what you want to assign your IT MSP.
Google also has a helpful article on how to Make user an admin.
(5) Secure the new admin account
You (being the IT MSP) should then log in as the new admin and set up 2FA etc. This is done in your regular Google Account control panel: