I used to be with a great hosting company, Lunarpages. 19 years of hardly any issues! Unfortunately they've been acquired by Endurance International Group - a conglomerate that gobbles up smaller IPP-s one after the other and then uses dodgy tactics to extort money from their clients (check this link for a list of companies they own). You can read many reports on the net about how your site suddenly becomes "hacked" and you have to pay $$ for your IPP to "clean" the site before you are once again allowed access to your own files. Now I haven't personally experienced this, however after my site was migrated I had serious issues with email and the site itself. Ping would result in 20-30% packet loss, sometimes 100% for hours. My email was inaccessible. After three days of trying to sort it out with their chat support, I started looking around.
One day of reading hundreds of real (and probably many fake) reviews and I'm a little wiser. So I'm making a note of my top picks here. Of course you should do your own research!
These will be in no particular order, they are all hosts that seemed reputable to me. What I was looking for:
A company with at least an office (that I can find on Google maps)
Possiblity to disable mod_security (or at least set some exceptions...required for OctoberCMS)
CPanel
Bonus: LiteSpeed, CloudLinux (for isolation), CloudFlare, SSH upon request
LetsEncrypt SSL certificates
What did I end up going with? Rackforest.com. This is a Hungarian company and they are cheap and have everything I need. Go figure.
But here are all the American companies I checked out before deciding on Rackforest:
Veerotech - Raleigh, North Carolina, US - LinkedIn ♥
I read a lot of good about this company on Reddit, in fact it is in their list of official recommendations (in addition to NixiHost, iWebFusion, and KnownHost).
They are 100% privately owned with their own equipment. Unfortunately I couldn't find anything about them on Facebook, although they are listed on linkedin as a company of 1-10 employees. So I'm guessing it's a fairly small operation. Their address is a PO Box. At the same time they state on their site that they have "Over 220,000 data center square feet at full build".
I have sent them a letter with my questions (no online chat available):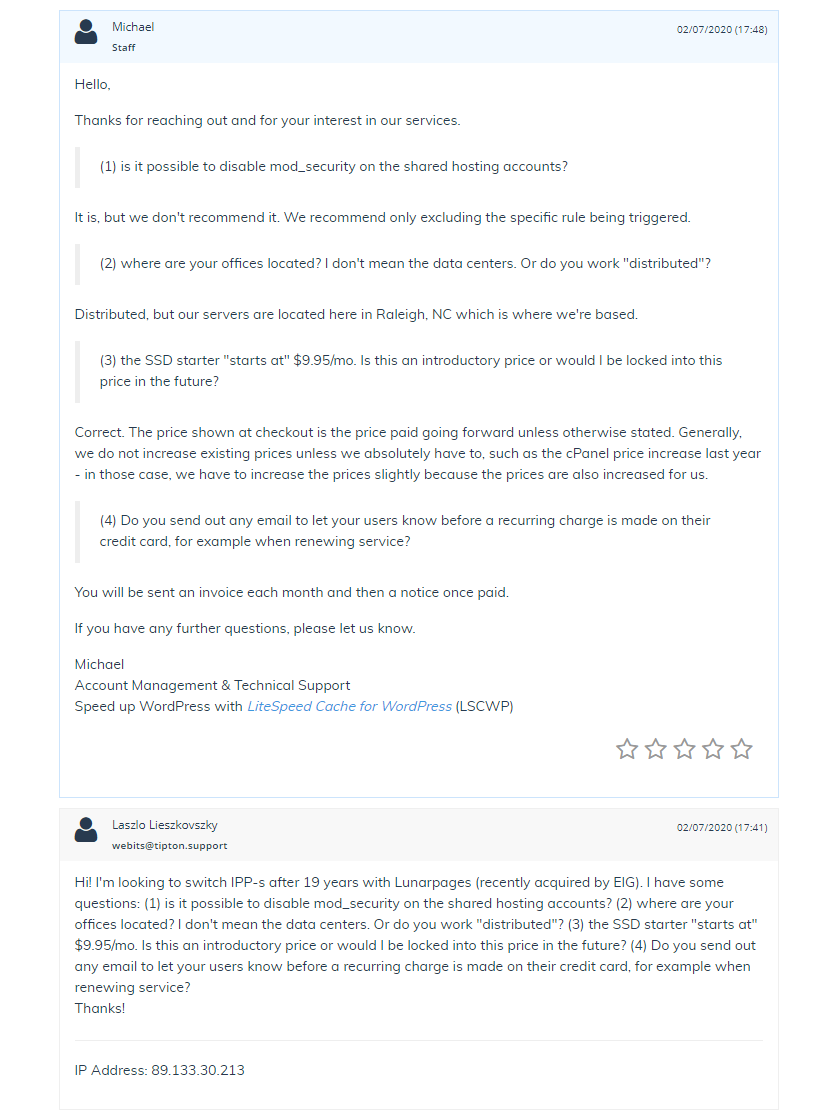 I had a hard time finding useful information about the company. I think they are quite small. Their offices are supposedly at "8 The Green #5393, Dover, DE 19901, United States" however those don't look like office buildings to me on Google maps. It looks like the town center with pretty historical red buildings!
On the plus side I chatted with them - they were quick to reply - and they wrote that they would be able to disable mod_security if necessary. The person seemed knowledgeable as well.
This is a more serious company I suspect than the previous two. They have a pretty nice office building. I was able to chat with a friendly sales person. Unfortunately they are not willing to disable mod_security on shared hosting accounts. Understandable I guess but a no-go for me. Here's some more info on their shared packages.
They are very highly rated on Facebook (4,7 of 156 reviews) and they are liked by 21 433 people!

This is a bigger company, I guess the biggest indepentent IPP in England. Mostly good reviews on FaceBook. Their site is excellent, unfortunately when pinking their servers from my phone every once in a while a packet was lost. Strange.
They have a "meet the team" page which is awesome.
10k likes on FB and 200 positive reviews - so that's good. Some users seem to take issue with them initiating charges without prior notification. The sales rep confirmed this on chat and also explained that it's not possible to disable mod_security on their shared accounts. A shame. When I asked if they might be acquired by EIG, she responded "I have no idea what my boss wants to do." They have datacenters in three locations, including Amsterdam (although I think the rep said they don't have shared hosting there) and a nice office in a beautiful location.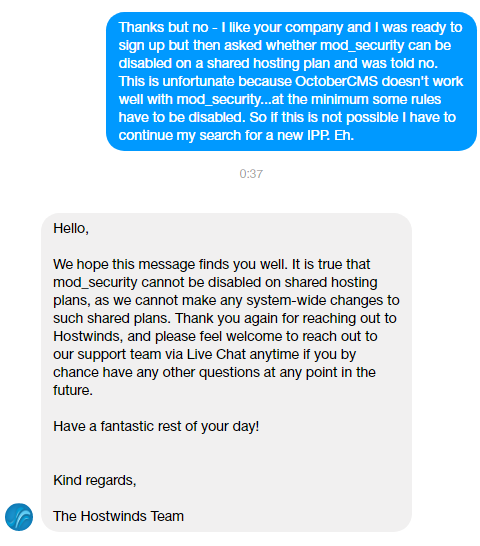 Others to consider:
StableHost.com
Looks like a reputable company however some users have complained on their facebook page about a fall in their quality of service after they were acquired by "MG." I'm not sure who MG is but I've learned my lesson about what happens when a good hosting company gets acquired by a giant so I'm staying away for now. At least they are allowing comments on their facebook page! That's a good sign.
I was able to talk with an agent via chat fairly quickly. He was quite friendly and frank when I asked if they have offices. He said that they basically work distributed. So this is a small outfit as well.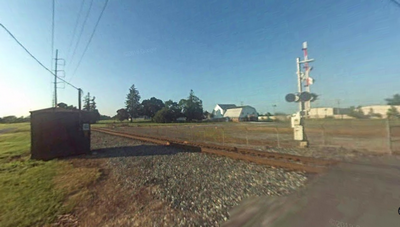 + "Never worry about Email blacklisting again! We've partnered with MailChannels to have your emails always delivered to the Inbox of your recipients."
However, I couldn't find any info about their datacenters. I suspect they are piggybacking on others. They don't have a Facebook company "page", only a personal page.
These guys have many good reviews however they aren't really a traditional IPP. They make use of google cloud infrastructure to provide a certain type of hosting with their own custom control panel. Ping latency was pretty bad when I tested it so I gave up on them there.
And some others:
MDDHosting - seems like a very small operation
GeekStorage? - FB - Norman, Oklahoma, not on LinkedIn